Confession time: I have not been cooking dinner for quite some time now. My husband cooks dinner for us like 99.9 percent of the time. And that would be fine except that he does most of everything else too while all I really do is work at my day job and then part time in my creative job.
It wasn't like that when we first started living together. Before we got married, I cooked all the time. I used to grocery shop on a regular basis and get really excited about making new things. I would get obsessed with making something like pesto, or roasted red potatoes with rosemary and then after a few too many times I would get tired of it. But I never stopped cold. And it never ever felt forced or obligatory. I never had to remind myself to cook that night. I just knew it was time to cook dinner. I think it was because it was my first time ever living on my own and  this free and liberating feeling was so nice.  Getting to share meals with my husband and spend time with him and get to know what he liked helped us to bond more deeply and that was a very liberating feeling for me.
I used to make fun of him on occasions when he cooked because he would just heat things up in a pouch or defrost and heat something and I didn't consider that cooking. But it was dinner.
Now, many years later, we're married and in our second apartment together and he has become like a master chef. No lie. He loves to cook. Naturally, he doesn't like doing it every single day! But he really has a knack for it. And I have a knack for eating sooo…. LOL!
A few night ago, for a change, I cooked us a meal. Nothing big, just pasta and salad. I cooked a pasta that was a shape I'd never used before. Gemmeli. It's cute. Aesthetics in food matter to me.
"I feel like this takes longer to cook than spaghetti. Is this as big as it's supposed to get? Is this cooked enough yet? Here try it."
"Did you time it?
"No, I never time it. I just try it."
"This is good. One more minute and some more salt and stir it a little so…"
"Did you want cheese? Cheese and pepper?"
"Pepper?"
Pepper, You know like ground pepper."
"Oh, just a little. More cheese please"
"Of course"
"You know there's ground pepper right?'
"I know but I just like to grind it myself. I like the whole peppercorn. I also like the way it feels to grind it. I like the grinding feeling."
"Oh I need more dressing"
"So the secret to your salad last night was that you drowned it?"
"Hahaha. No! I didn't drown them. I just drizzled on a few coats…and then one more
"LOL!!"
I made an IG Stories Boomerang post of me pouring the drained pasta from the colander into the pot and showed it to him. He nodded in authentic approval, which felt really nice and then he directed me to one of his favorite shows that he watches every week about tree house building. There was an animated portion showing the layout of a tree house being built for a couple.
"All I see is a really bad storm coming along"
"But you wouldn't live there."
You mean it it would be like a vacation from your house house"
"Yeah"
"When I think about I that way I really like it"
"Yeah!"
"You could have parties there…"
Yup!"
"Retreats"
"Mhhmm…"
"Wouldn't it be cool to have Black People's Bed and Breakfast Treehouse"
"Yes!
"They could just be pampered and chill in nature, go for walks on the trails and a few would lead to like a lake or some body of water…
"Exactly!
"Have some guided meditation…"
This lead me google random images of Black people in nature which lead me to the discovery of Outdoor Afro "Where Black People and nature meet…"  It also made me think about how nature walks and just being in nature, which I have loved since a baby have always been framed and appropriated as being a "white people thing." The same with bed and breakfasts. And we know for a fact that during segregation, there were not only Black bed and breakfasts but entire hotels and inns that provided lodging for Black people travelling from state to state because there was literally no place else they could go! And that made me come to the realization that segregation had to be better for Black Businesses.
If you're looking surprised right now, remember that a while back I also said it took me years to realize that integration didn't work for Black people.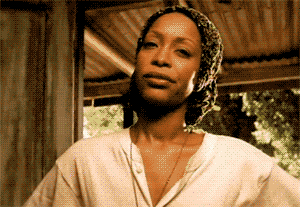 So I realized that making dinner for my husband is not just about food or being fed in the most practical sense, which is of course really important. Sometimes it's also about the inspiration and revelation that can only arrive through that level of safe and open connection that happens when you're breaking bread together. I need to start cooking dinner again more often. LOL!