I was on a brief but much needed getaway this past weekend with my husband. We were in upstate New York and dining at a favorite spot, but I made sure we got back in time for Michelle Obama being interviewed by Robin Roberts as part of her "Becoming Michelle" book launch tour. I was so excited for it, so excited to see and hear from her. And the interview really delivered on many points.
I was most open for the parts where she talked about feeling like a failure because she and Barack were challenged when first trying to conceive naturally. She didn't expect it to be so hard and had I believe at least one or two miscarriages.
I didn't know how common miscarriages were, because we don't talk about them…
I was really moved by her candor on this subject. She eventually had Sasha and Malia through IVF. I cannot tell you how many times I've heard this story from women I know. But I just never imagined I'd hear it from the Flotus!
I think it's one of the worst things we do to each other as women; not sharing how our bodies work, how they don't work…
She then went on to talk about how damaging it is when women don't share things with one another because of shame and a sense of failure and hopelessness. It made me think about how Khalilah was always so adamant about Black women sharing with one another and how she would always get on me for not sharing enough purposefully. This was one of the reasons we would share our blog entries out to Soul Sistah Series. Spaces created for and by Black women for the purpose of sharing and learning from one another are invaluable and a dire necessity if we wish to break the curse of habits and rituals handed down through generations which do not serve to connect us to our power.
I also loved when Michelle talked about her relationship with her husband Barack, how they met, where the attraction began. I've been married to my husband for 4 years and have been dedicating myself to re-examining my marriage lately and  really thinking about what it means to me to be married and what makes relationships work in general. I've learned a lot so far from studying the work by Esther Perel, a relationship psychologist, who introduced me to the term "erotic intelligence."
Much of what is rarely a part of a mainstream discussion is how sexuality and arousal are maintained in a long term marriage, particularly in couples who are also parents. I have always always always loved the ways in which the Obamas allowed us to witness us the powerful spark of their initial attraction to one another when in public. I can only imagine that a love that real cannot be hidden. And why would you? Their love and sexiness have inspired so many of us. In the interview, when addressing Michelle's initial attraction to her man, she  was like, you see that cocky confident way he walks? "He has always walked like that…"
GURL!!!!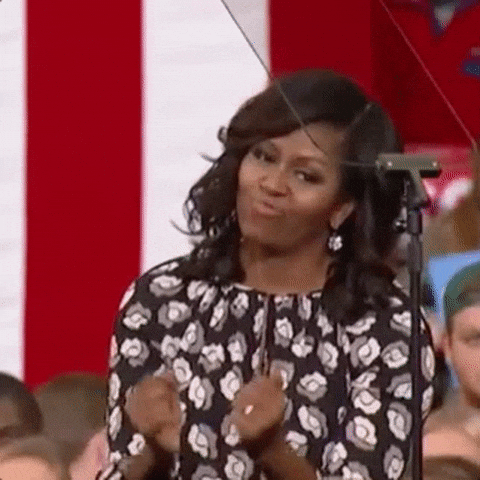 I would never have though it could be done in the White House of all places! LOL!!
What I know now is that this attraction and eroticism is not maintained without self love, dedication, and work.
It's hard to deny that Obama was one of those presidential candidates with charm, charisma and attractiveness in his corner and a lot of that came from being partnered with someone who wasn't afraid to really be Black. And Blackness is sexy af.  Who doesn't remember pictures of the Obamas like these where just watching them, we could all only imagine they had to be getting it in on the regular? I have never in my entire lifetime been compelled to even imagine the erotic life of a first family until the Obamas.
Obama was clean and classy in presentation as was Michelle but she was the one with the most don't give a fuck in her practices, doing and saying what she did without apology because she knew who she was and where she was coming from. She showed her arms (oooohhhh!!!!) called out threats and injustice where she saw them and kept it moving dedicating herself to programs she believed in that were in service to communities in need.
Though she admits in the interview to being scared and nervous and unsure, she knew as a Black woman that she couldn't let that show while she was in office. Some people saw her as a threat. I saw her as strong and beautiful, fun, humorous and dignified. It's not to say that I agreed with everything either her or her husband did or said but as a Black woman married to a Black man, whenever I saw them I just felt like I was seeing Black excellence with regard to the work it takes to keep both a marriage and a family not only in tact but thriving, let alone through a two term presidency!