Full coverage vs serum foundation, blending brushes, transition shades, highlighter, primer, setting powder, eye shadow base, facial serum… Over the summer my obsession with make-up expanded my jargon and practice a great deal. I have gone from the one foundation that I first bought when I first decided I wanted to wear foundation to…I don't know, like…
10?
That might sound like a lot but I like to experiment. I have had to do a lot of experimenting and sampling to find the products that work best for my skin, my shade and my budget and in the last week or so, I have finally gotten to that point My nightly make-up removal and skin care routine is real and consistent. My morning make-up routine is also a ritual I look forward to literally every morning. Depending on my timing, I might miss out on one or two things but the foundational basics never get skipped. I believe that if you can slay every day, whatever that means for you, you should.
So now that I do all of the things and I would like to mention that my make-up routines consists of brands from two amazing Black owned beauty companies, Juvia's Place, whose eye shadow pigments are incredible and named for cities and locations and monuments from the continent of Africa like Burkina and Gizeh. The highlighter I used on special occasions (and at work, who am I kidding? LOL!) is by Danessa Myricks, part of her Illumunaters powder line in "Gocha Glow." Danessa reminds me that Black people can never shine too much. The light against the numerous shades of skin we live in is lit for real. Her models are on the next level of Glow Up. And I have never seen any other highlighter that shows up on my face the ways hers does.
So of course, now that I have all the make-up arsenal I will need for a while and am no longer shopping around and experimenting, Khalilah drops me a line this weekend that Rihanna's line of make-up Fenty Beauty is about to drop on September 8th!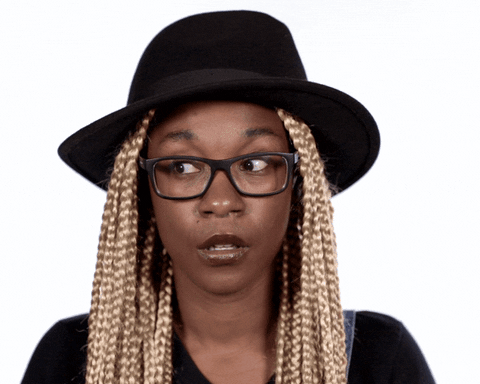 So what's a supposed former make-up junkie to do?
Ignore my idle impulses at Sephora or any other make-up brands online and save my coins for Fenty! I mean duh! It's Riri! I gotta check it out. I may have all I need but I have to support my girl. At the same time, I also really want to guard against buying anything that looks similar or identical to any make-up I already have. Other than that, I'm excited to see what she has to offer because if it is truly inspired by her wild, playful, intense, out of the box spirit, it's gotta be good.