On more than one occasion, my girl Khalilah has talked about how experiences are the only things she really wants as presents. The last few years or so, we've expressed how unaffected we are by the Holiday Madness that ensues during this commercially over developed marketing period called Christmas. As we get more mature, things are not really on our wish lists any longer. I know all I wanted this year were Sephora Gift cards! LOL!!!
Seriously. That was all.
But this year, Khalilah mentioned again that all she really wants is a vacation to someplace sunny.
I hear that!
But I never think to actually ask for it. Because…
Well who does that?
The first time I ever asked for an experience as a gift was because our wedding registry site provided it as an option. Such a thing had never occurred to me simply because I had never allowed myself to think it was something I could request.
I asked guests to fund a glass blowing workshop in Brooklyn. I have always been fascinated by the art of glass blowing. And it seemed like something extravagant and impractical that I might otherwise never get to experience. So we went! And I loved it! And I learned that glass blowing isn't extravagant all. It's not even cute! LOL!
You wear  clothes you're comfortable in and not afraid to get dirty, you have to work outside because the heat from the glory hole and all the kilns would be suffocating in an enclosed space and you really have to focus to avoid losing limbs or burning the crap out of yourself. At least I did. But watching glass in a malleable state be blown and manipulated is still pretty hot to me. Pun intended.
And did you know that the craft of glass blowing has hardly changed since ancient times? What could be more practical than that?
Think about that next time you're drinking…
from
a
glass…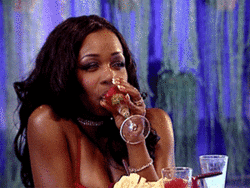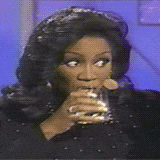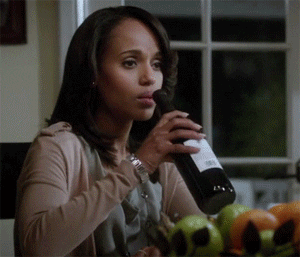 If nothing else, America has shown me that nothing is off the table with regards to what we are allowed to demand. It's just that we often we ask for things, not because we actually want them, but because we've been told what to want.
So far, my holiday wind down has consisted of a Winter Solstice trip to Spa Castle with Khalilah which we have managed to make for all the seasonal equinoxes this year (YAY US!) and which is something that gives me so much life, and rejuvenation. I think I slept that day at Spa Castle more than I have slept in all the times I've been there.
The next day, my husband drove us up to a house in Saugerties, NY that we like to rent out for deep but brief decompression and unplugging. It's a cozy and comfortable house owned by a dear friend of mine. Every time we're there it feels more and more like a second home. I feel that it is very much intended for simple, meditative contemplation. I mean it's surrounded by nature, so it's kind of hard not to be drawn inward by its energy.
A whole lot more sleep happened there. LOL! But the quality of rest when you're away in a place that provides a unique and needed experience is just qualitatively more enhancing to your life than a material gift might be. These experiences and more are things which resonate most authentically to my spirit. Aside from glass blowing, which I would love to do again someday, spa time and time away in nature are things I return to over and over to reconnect and center because they always work for me.
So this idea of wanting experiences vs material gifts of is really onto something. It's something I want to focus more on in 2018.
Stuff; I got. In fact, I've been thinking s lot about adopting a more minimalist lifestyle and I'll come back to that another time.
But asking for experiences? Funding experiences that will enhance, educate, evolve, heal, inspire and motivate?
More of that please…