Once many years ago when MJ was still with us, I remember being in one of my favorite music stores on Times Square. Virgin Mega Record Store. They had listening stations on the mail floor where you could listen to entire albums (if the headphones worked) before you decided whether or not to buy the CD. I loved it so much. I would go there and just listen to music and lose myself in a store full of hundreds of people. I would move down the line, listening to one album after the next. I remember on one particular day I was there wandering around when I began to notice that everyone in the store was facing the same direction, looking up at the large screens inside the store where they would play music videos. Like everyone! I looked up at the screen and a Michael Jackson video was on. I don't remember which one. I don't remember if it was new. All I knew was that I had never experienced anything like that before. Witnessing the attention and energy of such a large crowd of people be drawn to one direction was something I never forgot. At that time I probably felt that I had long since been flooded with Michael Jackson music and memories and as he was still alive at the time, whatever was playing on the screen at Virgin that day wasn't that big a deal to me. But seeing all those people stop everything to look up at him was something to behold.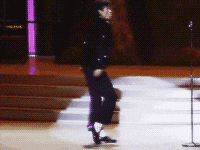 There are songs by MJ that move me in indescribable ways and sometimes I avoid digging back into the past because music can grab me and send me into a nostalgic wormhole for hours if I let it. But today I will allow myself to indulge in all the beauty that Michael blessed us with. I was so excited to hear Drake; track with MJ, "It don't matter to me" off of Scorpion. It's a beautiful tribute to all that MJ continues to contribute to music to this day. His work is universal, timeless, and unlike anything that ever came before it.
I remember seeing him moonwalk for the first time on TV and I think that I've never stopped feeling like he was this strange and beautiful and somewhat lonely human being (though he was often surrounded) who was never really understood but who made other people feel understood with his music.
Man, I am so blessed to have come up in the age of Michael Jackson. Yup, I'm starting to talk like an old person. LOL! As my physical therapist told me yesterday, aging is a beautiful thing.