The wretched of the earth do not decide to become extinct, they resolve, on the contrary, to multiply; life is their weapon against life, life is all that they have.
-James Baldwin
A man who don't take care of his family can't be rich. I watched Godfather, I missed that whole shit…
-Jay-Z
The year is 2444 The home is rich and lavish. The setting is coldness, anger and betrayal. Michael B. Jordan storms angrily into the bedroom of Thandie Newtown's characteron a particularly "important day" loudly berating her capacity to be the head of a clearly powerful family only to find her in bed with a dude played by Moonlight's Trevante Rhodes. I notice immediately how pale Thandie, Michael B. Jordan and X are. The only colors you see are like pale blues and yellows. But the paleness of their skin tone makes me think of sickness, deficiency, greed heartlessness and death. Sure enough, before the scene is done, both men are killed, Mark by Trevante and then Trevante by Thandie's character, Game of Thrones style, because she wants the family "Throne" for herself.
Both Anthony and Trevante are both wearing clothing at the waist inspired by garb worn by men in ancient Khemit. Thandie wears a scant bandage outfit nearly identical to the one Milla Jojovich wore in the "The Fifth Element" a film set in a future that opens in an Egyptian temple and where the planet is under threat of total destruction if an essential element, which is embodied by a woman is not recovered.
In the year 2148 an indigenous woman, Bird and Jacob played by Irene Bedard and Omari Hardwick are joint world leaders hailing from two great families. They respond to questions from a citizenry council about violent events that have lead to Jacob's rise in power. Jacob recounts the legacy of his family and their struggle to uphold and maintain law and justice throughout generations. He talks about how one of his ancestors who played a major role as one of the founding mothers.
She was the primary architect of something called "The Confessional Papers" in 2050 and revised the constitution with a group of amazing women, played by Janet Mock, Neicy Nash, Mindy Khaling, Rosario Dawson and Rashida Jones just to name a few.
His ancestor, played by Susan Kelechi Watson in the year 2050 by is none other than Blue Ivy Carter.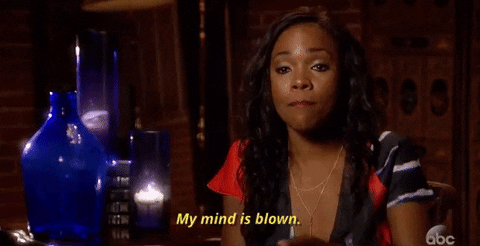 Now we're in Blue Ivy's  narrational 2050 memory as she recalls her father's words, "Nobody wins when the family feuds."
Cut to 2018 which is basically now, where there the musical narrative of the video for Jay Z's "Family Feud" begins. Jay-Z walks a present day Blue Ivy to sit in a church pew and then walks the front to start rapping before Beyonce who Amens at him from the pulpit in royal Blue, looking like a sanctified and sexy ass Popestress. She also appears in a black mini dress and billowy white sleeves behind the screen of a confessional as Jay speaks to her from the other side. The metaphor is plain to see now. And there is still so much left to unpack. I want this to be movie or a television series!
I'm still on the floor!
I don't know about you but I've already watched this video about five times now. I know I will lose count of how many times I watch it again and of how many other pieces of symbolism I pick out of this brilliant work of art and revolution made explicitly for the culture. I also know that 4:44 is a fierce, proud and unapologetically Black call to action to each of us who are about that life if there ever was one and I couldn't have asked for anything better to arrive as 2017 comes to an end and 2018 kicks the door and our asses in.
Here's to a Black Ass, Woke Ass 2018!